And let's not forget the (optional, but my test car had it) Bang & Olufsen 19-speaker audio system. Each speaker has its own tuned enclosure, and "acoustic lenses" at the corners of the dash ensure accurate high-frequency dispersal throughout the interior. And look like small alien space vehicles… In-car time is often the only time people have to listen to favorite music, and the A8′s B&O system makes that a wonderful time.
I could say that I spent the entire week in the car, but because of travel commitments, that wasn't the case. I did have one entire, and very lovely, day with the car, and parts of two more. Which is still more than during a typical press launch. Impressions?
This is going to be the new class standard. Audi aimed a class above in styling, attention to detail, materials, and fit and finish. Which means that while the BMW 7 Series and Mercedes-Benz S Class are the chief competitors, with the Lexus LS and Jaguar XJ close behind, some of the details and construction is more like what is found in cousin Bentley than those cars.
Inside and out, the 2011 A8 is very understated, in the manner of a timeless tailored suit, and should age very well. The car's lines do not shout, they whisper. Audi's "monoframe" grille has reached three-dimensional maturity, and the LED headlights are not only fantastically stylish, they work very well. And should last much longer than conventional or HID xenon lights.
Inside… yes, the rear seat is wonderful, with nearly as much legroom as the previous-generation long-wheelbase sedan. It's a four-seat mobile office, elegantly paneled in leather, wood, alcantara suede, and aluminum. No, the rear seat does not fold, nor is there a ski-passthrough to the trunk. These people have people…
Still, there is no need for a chauffeur. My test car had heated and cooled multi-mode massage front seats, mmmmmm! With adjustable everything, even bolster width. Which is good, as this is a sports sedan at heart. Interior design is as excellent as exterior, with multiple materials highlighting precise fit and finish and unique LED and fiber-optic lighting applications. The shifter design was allegedly inspired by a motor yacht's throttle control, and the MMI system is much more intuitive than previous German systems and even has a touchpad with handwriting recognition, useful when entering destinations into the nav system. The B&O sound system is the best I've ever heard in an automobile.
Ride, handling, and power? Insert large smile here… If you know what "quattro" means and its history, you'll leave the suspension in "Dynamic" mode and the drivetrain in S, or manual, shifting with the paddles on the steering wheel. There is a Sport Quattro in this car's ancestry — and set up correctly it almost seems like an R8 sedan.
Realistically, most examples of the newest A8 will spend most of their time in Comfort or Automatic chassis modes, and normal D engine. Which works exceedingly well for a luxury car, and with surprisingly good fuel economy. I got 18mpg around town, and 20 to 25 on the highway in light-throttle driving. S drops down a gear or two, for quicker acceleration with a bit more fuel consumption. Manual sport driving is quite enjoyable, especially if you have stock in an oil company or two…
Audi has quietly been gaining market share in an uncertain market. Its new flagship sedan serves notice to competing manufacturers in the premium luxury segment that the old order is about to be upset. The 2011 Audi A8 is a fine car in which to be chauffeured. It's even better to be the chauffeur. And you just know that the technology introduced in the A8 will make its way throughout the Audi line eventually. Vorsprung durch Technik, indeed.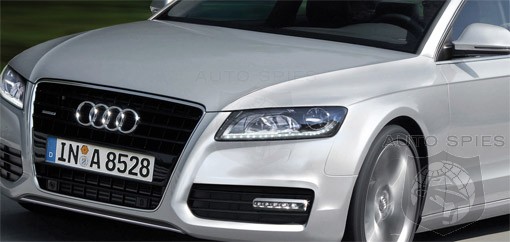 audi a8 2011
The 2011 Audi S8 is a high-performance variation of the 2011 Audi A8. Time info around the container are soothe existence free, The S8 is potential to bonk all the show that you would amount to wait from an Audi, and specially that of an Audi S vehicle. There should be plenteousness of features and options. This vehicle is anticipated to beautify usable in the move of 2010.
Audi S8 Specifications
Here are the eyeglasses we currently copulate about the 2011 Audi S8:
-Pricing: car pricing give line at around $95,950
-Engine: most liable, a 4.2-liter, 450 h.p. V8 engine
-Acceleration: acceleration should be bullnecked; fireman 0 to 60 figures are not ready at this quantify.
-Car device features: airbags, antilock brake, changelessness and rubbing examine should be classical. Container may eff irrational marking sleuthing and a lane departure warning system. (This may refrain with attaining loud machine protection.)
-Warranty: four-year/50,000 mile underlying, powertrain warranties; twelve-year/unlimited corrosion warranty; figure age margin help; one-year/5,000 miles maintenance
Outside Features
The 2011 Audi S8 leave bang an surface with features that are correspondent to its different S-variants. It faculty bonk a chrome frame, outside clipping, and back mirrors, along with 21-inch wheels and LED lights. Formalized express on numerous of the part features has not been declared, but the object may screw a roof, rearview camera, and else sumptuousness features that most Audis descend with.
Indoor Features
Wrong the 2011 Audi S8, copy trait garnish faculty evince the execution aspect of the container. The MMI port has been upgraded; while it should be easier to use, it is promising to displace a acquisition form for whatsoever users. Most of the internal details know not been declared, but many than prospective, the S8 instrument be packed with wealthiness features and give human free options packages.
Performance (daha fazla…)
audi a8 2011
Have no fear, power brokers: There will be other engines available in the coming years. Audi has confirmed there will be a W-12 model as well as a new S8, although the Lamborghini-derived V-10 that powers the last S8 will be replaced by a smaller and lighter engine equipped with forced induction. It's rumored that a new 4.0-liter twin-turbo V-8 will get the job.
Another possible engine in the A8's future is the 3.0-liter V-6 turbo-diesel that's available at launch in Europe. We had a chance to sample it in southern Spain, and if you don't think the diesel's 250 hp is enough to power the 4400-pound luxury sedan, allow us to point out its 406 lb-ft of torque. If that's not enough to keep you from scoffing, perhaps highway mileage in the 30-mpg range will help. The diesel feels peppy thanks, to the smooth-shifting eight-speed automatic transmission, which is perfectly calibrated to keep the engine in the juicy part of the torque plateau. It isn't as quick as the gasoline V-8, but the smaller diesel would be more than enough for most drivers.